Lapp Electric was founded in 1969 by Manny and Flossie Lapp. After years of doing electrical work as a side job, Manny finally decided to follow his passion of starting Lapp Electric. His sole mission for Lapp was simple…provide the best service for his customers.
According to Manny, he ran the business from "the seat of my pants" while Flossie helped out taking care of the books and raising their three sons.
Manny, who was raised Amish and only had an 8th grade education, attended Thaddeus Stevens and received his journeyman electrical license.
In 2010, Manny passed away, however his legacy lives on through his sons, grandchildren and the business that bears his name. While he is greatly missed, his memory and the way he lived life will always be remember. We love you Manny!
Check out this video on the History of Lapp Electric
---
The Lapp Difference
Your trusted electrician for over 50+ years at your home and business
Family-Owned and Operated
24/7 Emergency Service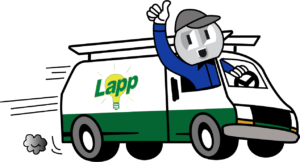 Ready to talk to someone about your upcoming project? Call us Today…We can be there Today!
REQUEST A QUOTE OR SCHEDULE AN APPOINTMENT