Years ago, when homes were built, they had 60-amp or 100-amp services.
Today, a 60-amp service is inadequate to power a modern-day home and all its electronics.
A 100-amp service may still be adequate to power a home that is less than 3000 square feet if it does not have too many electronics such as electric heat, central air-conditioning and appliances.
However, as more and more electronics are added to homes, it may be time to consider upgrading your service from 100-amp to 200-amp or greater.
It is also important to know if your service from the Utility Company is an overhead service or underground service.
Overhead Service
An overhead electrical service has a mast running down the side of your home into your meter base.
Over time, this mast can begin to show signs of age and may need to be replaced.
Underground Service 
An underground service has a pipe running out of the ground into your meter base.
Many newer developments are going to underground services so that there are not utility poles every couple of feet.
An underground service can be beneficial because you do not need to worry about trees falling on and pulling your service off your home.
If you are interested in an estimate to upgrade your service, replace your service or if you are considering moving from overhead service to underground service, Contact Us today for a FREE estimate.
---
The Lapp Difference
Your trusted electrician for over 50+ years at your home and business
Family-Owned and Operated
24/7 Emergency Service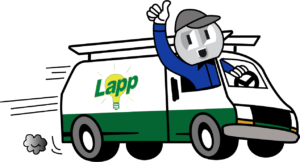 Ready to talk to someone about your upcoming project? Call us Today…We can be there Today!
REQUEST A QUOTE OR SCHEDULE AN APPOINTMENT