The Right Lighting makes all the difference, and this is especially true when it comes to interior and exterior lighting at Commercial Facilities.
Interior Lighting
Did you know that according to a study conducted by the American Society of Interior Design, 68% of employees complain about the lighting in their offices?
At Lapp Electric, we have a team of highly dedicated professional electricians that are ready to talk to you about solutions for upgrading your building to more energy efficient lighting.
Maybe you are looking for a way to reduce your energy footprint? Consider installing motion sensors in your building so that lights will turn off automatically if no one is in the area.
Exterior Lighting
Not only does proper exterior lighting create an appealing exterior that makes your business visible to passersby, which may increase traffic to your location, it also provides security and protection to your employees and customers and it helps to deter crime.
According to David Kluskens, a national Council on Qualification for the Lighting Professions (NCQLP) Lighting Certified (LC) design engineer… "Criminals don't want to get caught. When organizations have lights designed to properly illuminate building entrances, parking lots and walkways, criminals are going to be seen trying to break in or mug someone walking to or from the building. Good lighting design is a crime deterrence because the design is engineered to ensure safety by taking into consideration how space is used, by whom and when."
Whether you are looking to upgrade to more energy efficient lighting for your facility or looking for a maintenance agreement for your exterior lighting or sign, we can help you out.
Our fully customizable exterior maintenance agreements ease the burden you may be feeling to always be checking your lights.
---
The Lapp Difference
Your trusted electrician for over 50+ years at your home and business
Family-Owned and Operated
24/7 Emergency Service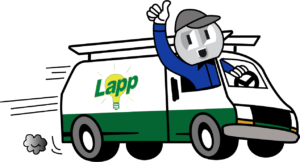 Ready to talk to someone about your upcoming project? Call us Today…We can be there Today!
REQUEST A QUOTE OR SCHEDULE AN APPOINTMENT