No matter where you are looking to add electric, we can help you out. In addition, our team of trained professional electricians can help troubleshoot and determine why items in your home are not working.
Lighting
The right lighting makes all the difference. This is true in a commercial office space as well at your home. In order to make sure that you can adequately do the things that you need to do, you want to make sure that you have sufficient lighting, both indoors and outdoors.
In order to make your home feel balanced and inviting, you want to include various forms of lighting from decorative pendant lights to table lamps, to sconces.
Low-Voltage Lighting
Low-voltage lighting is a highly efficient, less conspicuous way of lighting up areas around your home. These lights use less voltage and wattage, but keep areas adequately lit.
Some examples of low voltage lighting include under-cabinet (or under-counter) lighting as well as landscape lighting.
Remote Control Lighting
Imagine controlling all the lighting in your home with a single device. Turn on the floodlights for incoming guests, keep a light on for the kids or show off your holiday spirit.
We can help you control when and where your lights turn on.
Recessed Lighting
A recessed light (also known as a can light) is installed into a hollow opening in a ceiling. Over the past few years recessed lighting has gained popularity among homeowners as there has been a push to move away from end tables and lamps.
Recessed lighting comes in various configurations and can help to accent areas of your home from spicing up the cabinets in your kitchen to highlighting photos on your books case.
Dimmers
Dimmers allow you to adjust the intensity of lighting based on the atmosphere you are trying to create.
LED Lighting
If you have not done so already, you may want to consider upgrading your home to LED. LED lighting uses considerably less electricity than incandescent lighting and it has a longer life span.
Doorbells
Do you have a traditional doorbell or a video doorbell that you are looking to have installed? Give us a call and we can have one of our highly trained professional electricals help you out with installing your doorbell.
Ceiling Fans or Attic Fans
Are you looking for some ideas to cool your home and help lower your electrical bill? Consider installing ceiling fans or an attic fan.
Ceiling fans can provide energy savings in the summer months because they create a breeze, which makes everyone feel cooler and in turn allows you to turn your thermostat up a few degrees, thus saving energy. In the winter months, if you set your ceiling fan in reverse, the ceiling fan will help to push the heated air that rises and collects near your ceiling back down into the living space.
There are ceiling fans that are designed for patios and porches and can help to cool down your outdoor living spaces in the hot summer months, making your outdoor living spaces more enjoyable for entertaining guests or just enjoying some much needed time outdoors.
Attic Fans can lower the living area temperature, extend your roof life, and reduce air conditional expenses.
---
The Lapp Difference
Your trusted electrician for over 50+ years at your home and business
Family-Owned and Operated
24/7 Emergency Service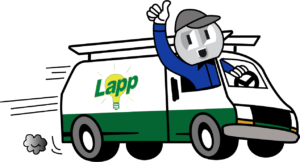 Ready to talk to someone about your upcoming project? Call us Today…We can be there Today!
REQUEST A QUOTE OR SCHEDULE AN APPOINTMENT