Your electrical panel (also known as a circuit breaker box) is the heartbeat of your home.
If your electrical panel is not in good working condition it can cause issues, such as flickering lights, tripped breakers and ultimately loss of power.
How Long does my Electrical Panel (or Circuit Breaker Box) last?
Contrary to what many people think, electrical panels do not last forever.
According to the International Association of Certifies Home Inspectors, electrical panels have a life expectancy of 60 years.
However, things like moisture and water damage can greatly reduce the life of an electrical panel.
Since residential electrical panels are typically installed in basements, it is more likely that a residential electrical panel will last 15-20 years, however each home is different.
Is my Panel Safe?
If you have a Federal Pacific Panel also known as a FPE Panel or a Zinsco Panel you may want to consider having your panel replace as both have design flaws that may result in fires.
Additionally, these panels are no longer manufactured and it is difficult to find parts for them.
Over the years, if your electrical panel has started to decline or you have noticed signs of water damage or rust or if you have a Federal Pacific Panel or Zinsco Panel, Contact Us today for a FREE estimate on having your panel replaced.
---
The Lapp Difference
Your trusted electrician for over 50+ years at your home and business
Family-Owned and Operated
24/7 Emergency Service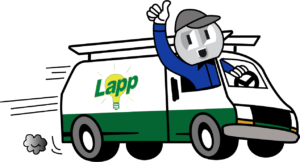 Ready to talk to someone about your upcoming project? Call us Today…We can be there Today!
REQUEST A QUOTE OR SCHEDULE AN APPOINTMENT