One common misconception that individuals have in regard to their meter base is who is responsible for what.
There are several types of meter bases. The most common type of meter base on a single-family home is what is considered a single-gang meter base. This means that only one rate payer is receiving a bill for the property.
There are also two-gang meter bases, three-gang meter bases and meter stacks but these are more common in commercial and industrial settings.
Many people believe the Utility Company supplies the meter base. This is not true.
The utility company provides the glass that goes into the mater base, but the property owner is responsible for the meter base enclosure.
It is important to note that your Utility Company may threaten to shut off your power if the meter base is pulling away from your home or is corroded and rusting away.
You want to pay attention to the condition of your meter base because it is always easier and cheaper to have a meter base replaced on a scheduled bases verses in an emergency situation.
If you are interested in an estimate to replace your meter base, Contact Us today for a FREE estimate.
---
The Lapp Difference
Your trusted electrician for over 50+ years at your home and business
Family-Owned and Operated
24/7 Emergency Service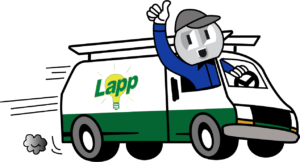 Ready to talk to someone about your upcoming project? Call us Today…We can be there Today!
REQUEST A QUOTE OR SCHEDULE AN APPOINTMENT