Inside and out, with our 40-Point CASE, we check your home and recommend ways to make it safer and more energy efficient.
Would your home's electrical system receive a passing grade if it were given a report card or health check-up? Let us help you find out with our 40-Point Comprehensive Assurance Service Evaluation or CASE. With our CASE, we check your home and recommend ways to make it safer and more energy efficient.
Features of the 40-Point CASE
Electrical panel and wiring assessments of the home interior from attic to basement
Exterior wiring assessments including detached buildings, swimming pools, hot tubs, and landscape lighting
General evaluation of all electrical outlets, lighting, and home network systems
Safety check of electrical systems in the home including radon and smoke detectors
Comprehensive report of areas that may need attention
Benefits of the 40-Point CASE
Helps homeowner feel confident about their home's electrical system
If you are selling your home, the 40-Point CASE can help you determine your electrical needs before you sell the property
If you are buying a home, the 40-Point CASE helps you determine what electrical work has been done or needs to be done on the property
Realtors gain an increased confidence in the home's electrical system to assist their clients with buying and selling homes
Value and trust are established because of the third party objective perspective
If you are intersted in scheduling a 40-Point CASE at your home, finding out more information about our 40-Point CASE or if you are a realtor who would like to discuss the possibilities of partnering with Lapp Electric to offer 40-Point CASEs to your clients, please fill out the form below and someone will be in contact with you.
Request a 40-Point CASE
"*" indicates required fields
---
The Lapp Difference
Your trusted electrician for over 50+ years at your home and business
Family-Owned and Operated
24/7 Emergency Service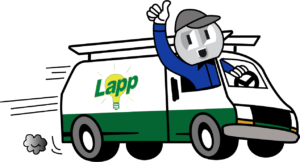 Ready to talk to someone about your upcoming project? Call us Today…We can be there Today!
REQUEST A QUOTE OR SCHEDULE AN APPOINTMENT