Published Monday, May 8, 2023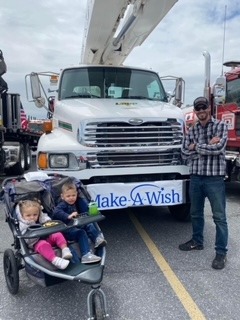 Lapp Electrical Service, Inc. is pleased to announce that Justin Hershey will be participating in the 34th Annual Make-a-Wish Mother's Day Truck Convoy.
Hershey, of Middletown, has been employed by Lapp Electric since 2011. He is participating in the event for the second consecutive year.
This year's event takes place on Sunday, May 14th, 2023 at Manheim Auto Auction.
Lapp Electric will be matching anything that Justin raises for this event (up to $500).
To help Justin reach his goal, consider making a donation and look for Justin and the Lapp Electric Bucket Truck in this year's event!
Check out this video of last year's event!