Published Friday, June 24, 2022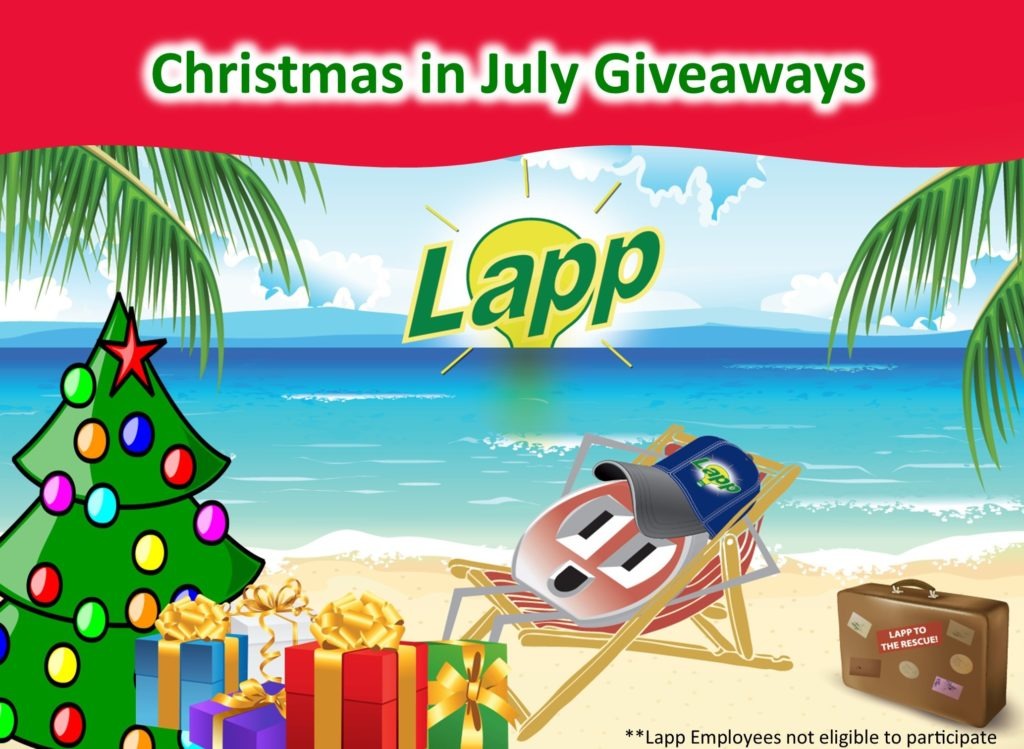 Christmas is the most wonderful time of the year, right?
That is what the songs say and for the most part people are happier during the holiday season.
We are looking to bring some happiness and joy to you a little earlier this year with our Lapp Electric Christmas in July Giveaways.
During this unique event we are giving away Lapp Electric Swag (hats, t-shirts, travel mugs, sticky notes and much more) each day in July.
How to participate
Each day we will post to social media the giveaway and what you have to do to be a big winner.
Some days there will be multiple winners and some days only one. Additionally, sometimes what you have to do to be a big winner may be simple, like sharing a post, and other days it may involve posting a video of you doing something.
The time of day that the Giveaways are announced will vary.
Where will you be announcing the Giveaways?
These giveaways will be posted exclusively to Facebook and Instagram.
Each day's giveaway will be posted to Facebook and Instagram at the same time so you don't have to have an account on both to participate. As long as you are on one or the other.
Time stamps from Facebook and Instagram will be used to determine the winners.
And remember, if you don't win one day, you have a total of 31 days to be a winner.
Can anyone participate?
Yes and No.
Everyone is eligible to participate with the exception of our Lapp Team members. We love our Team members, but we don't want it to appear that they have an unfair advantage with insider information. Plus, they already have a lot of Lapp Electric Swag.
We will also only allow an individual to win once during the month. This is in an effort to allow as many people as possible to participate.
When will I know if I am a winner?
Winners will be announced and contacted the next business day.
Swag can either be picked up at our office, 2420 Gehman Lane, Suite 300, Lancaster, PA or we can mail you your swag. Mailed swag will be sent out at the beginning of August. So, if you want it right away, you will have to pick it up.
Please be aware if picking up your swag. Lapp Electric is on the third floor and our building does not have an elevator
What's next?
Make sure you like and follow Lapp Electric on Facebook or Instagram. If you have both, make sure you like and follow us on both (double the chance for you to win).
For some of the clothing items we have a select number of sizes available. We will post the sizes available when we announce the giveaway and sizes will be distributed based on who completes the task first.
Looking forward to celebrating Christmas with you this July!