Where were you 15 years ago? For Lapp Electric team members and family, on July 9, 2004, President George W. Bush visited Lapp Electric.
This was a very exciting time for Lapp Electric but especially for Manny, Flossie, Greg and Tim Lapp. Lapp Electric was receiving not only local news coverage but national news coverage.
Who would have ever thought that a small Lancaster County electrical firm started by a man with only an 8th grade education would draw the attention of the President of the United States?
52 Memories of 50 Years
This summer we have had the privilege of having Tegan Lapp, son of Tim Lapp and grandson of Manny Lapp, helping out in the office. Tegan is a recent Conestoga Valley High School graduate and he took the time to share with us some of his (and his cousins') thoughts about the President's visit…
Looking back, it is hard to believe that it has been 15 years since President George W. Bush visited Lancaster and addressed the family business.

I do not remember much about July 9th, 2004, probably because I was only 3 years old by that point, but what I do remember is all of the excitement and hubbub surrounding that day.

My sister, Kali, and cousin, Ciera, recall meeting the secret service (especially the K-9 unit dogs). My cousin, Jordan, remembers seeing the parking lot packed with people from all over the county and my cousin, Maddy, remembers shaking the President's hand.

While we were all in awe of the situation, I did not realize just how important this visit was for my family and the company.

Since I was just a kid, I simply thought it was cool to take a picture with the president, but for my dad, my uncle and my grandparents, having President Bush speak at length about the importance of small business in America, a strong crew of employees and the skills necessary for a worker in the 21st century, really spoke to Lapp Electric's values as a small business "Powered by People."

I know my "Poppop", Manny Lapp, was proud of this moment in the company's history, saying for the Intelligencer Journal, "I don't know of any higher honor you could have."

As the company goes into its 50th year in business, Lapp Electric has been blessed with skilled employees and a supportive community. My Poppop started Lapp Electric with the goal of providing top-noticed service to its customers and Lapp continues to strive for that goal.

As former President Bush cleverly said, "There's nothing wrong with a couple of brothers following in a father's footsteps."
Thank you Tegan for taking to share with us your thoughts. In November 2004, in order to celebrate this once in a lifetime event, we have a video created (see below). At the time it was made, it was a CD, but we have since converted it into a YouTube video.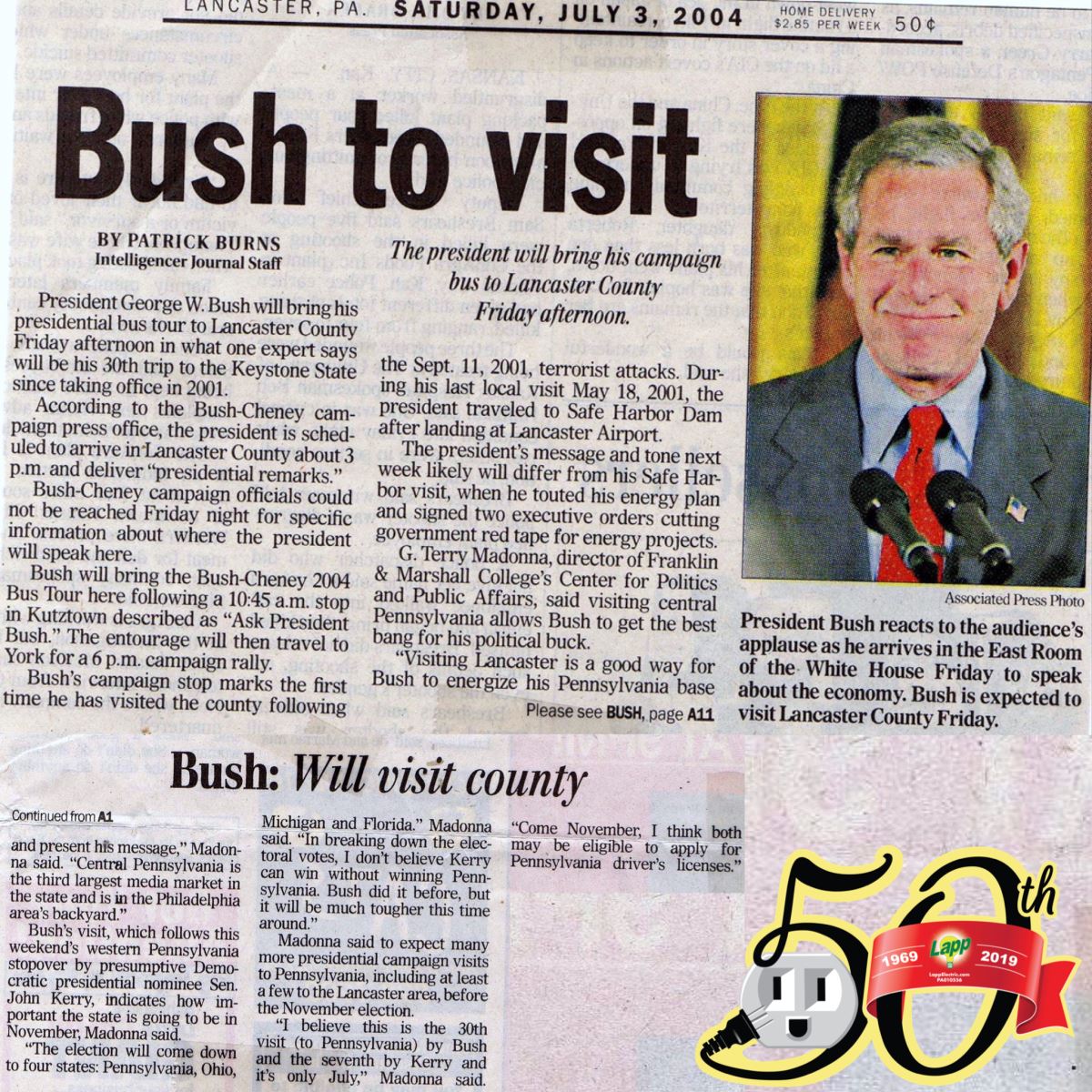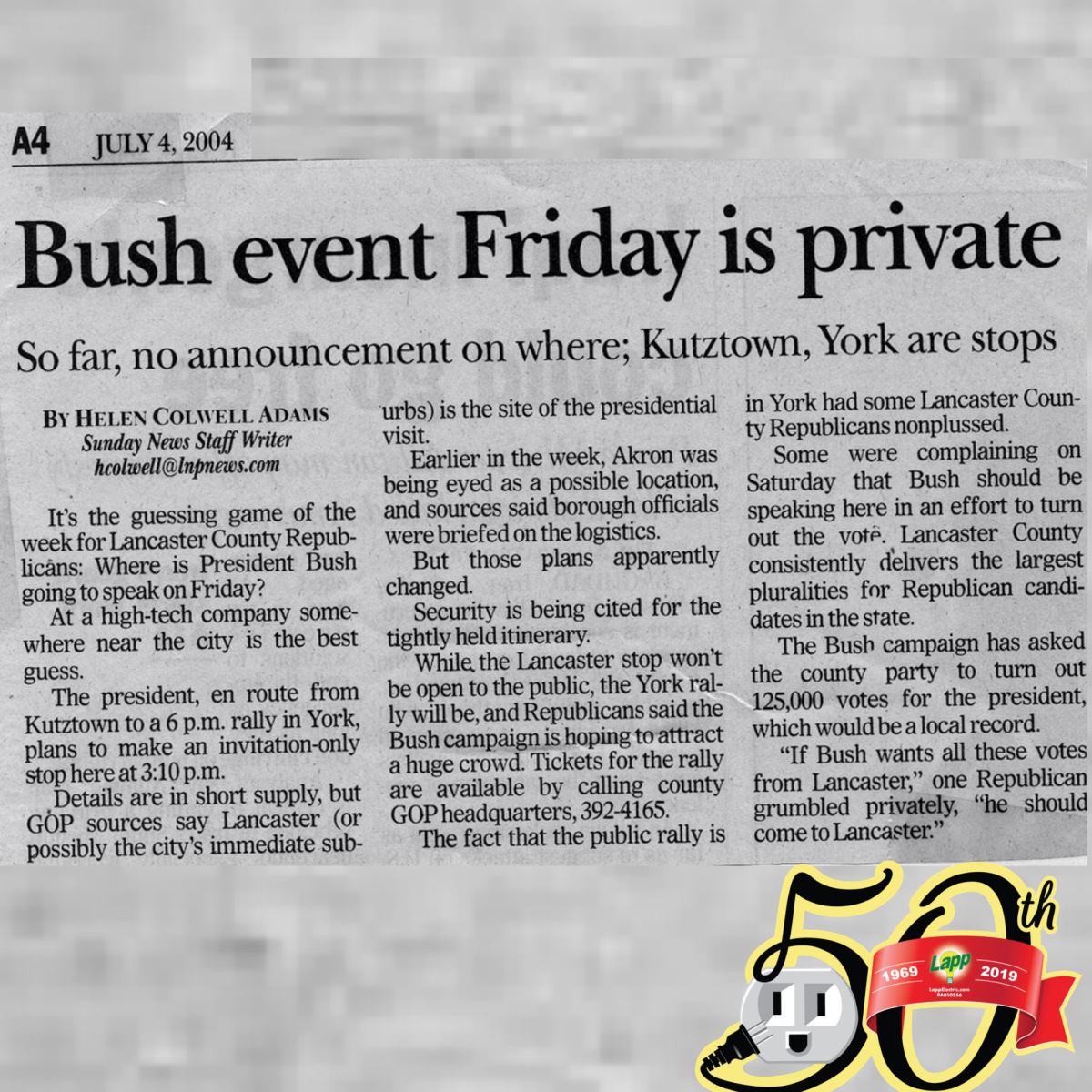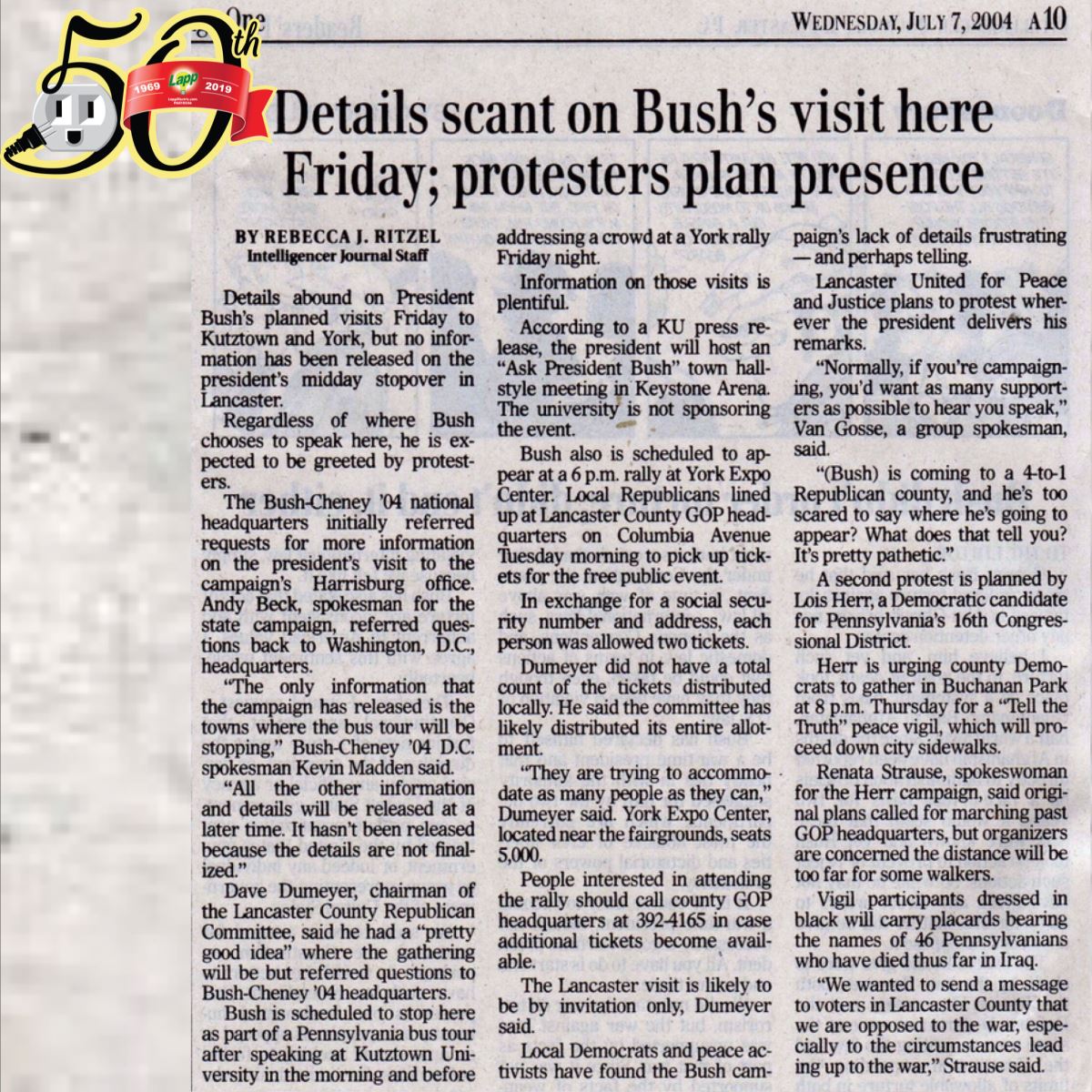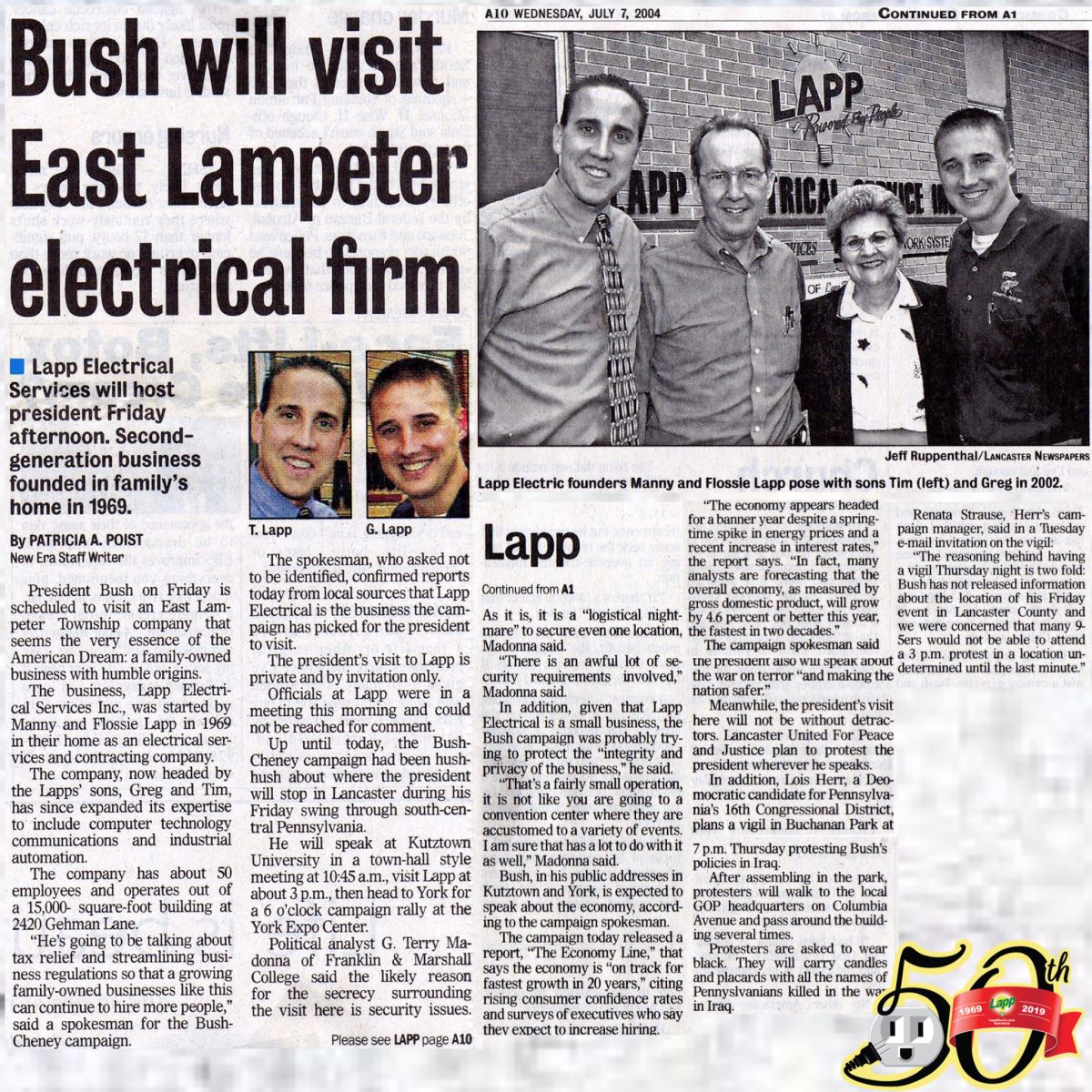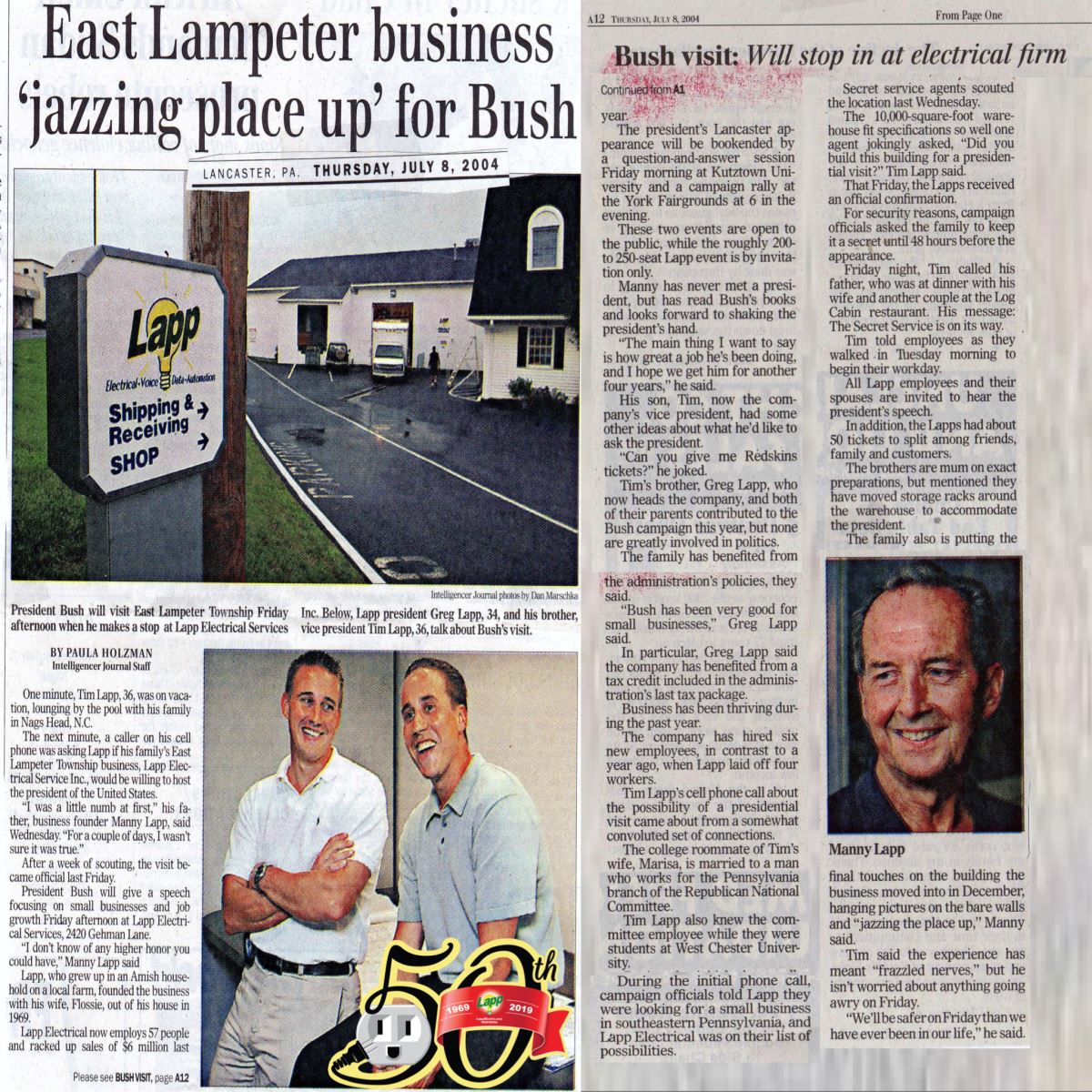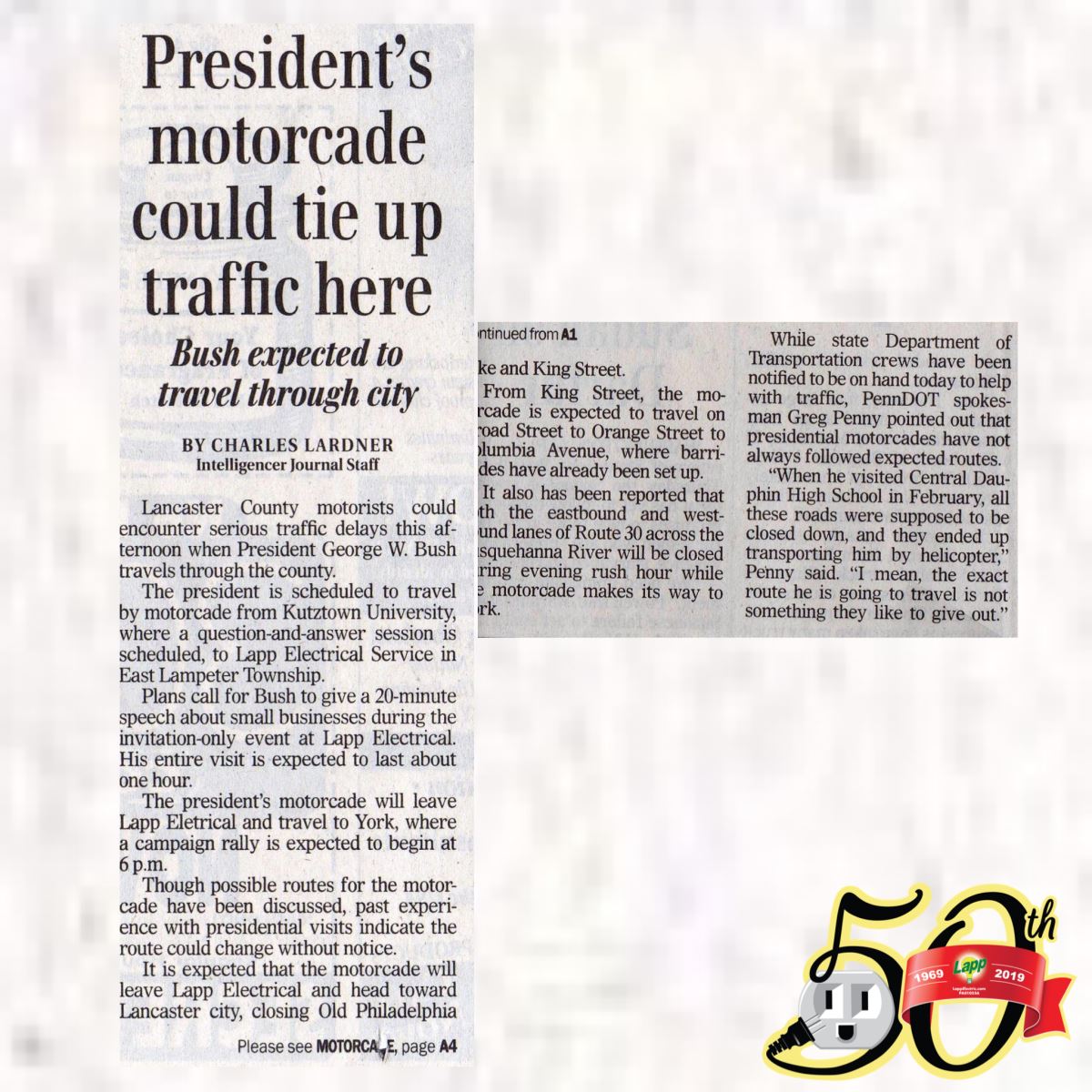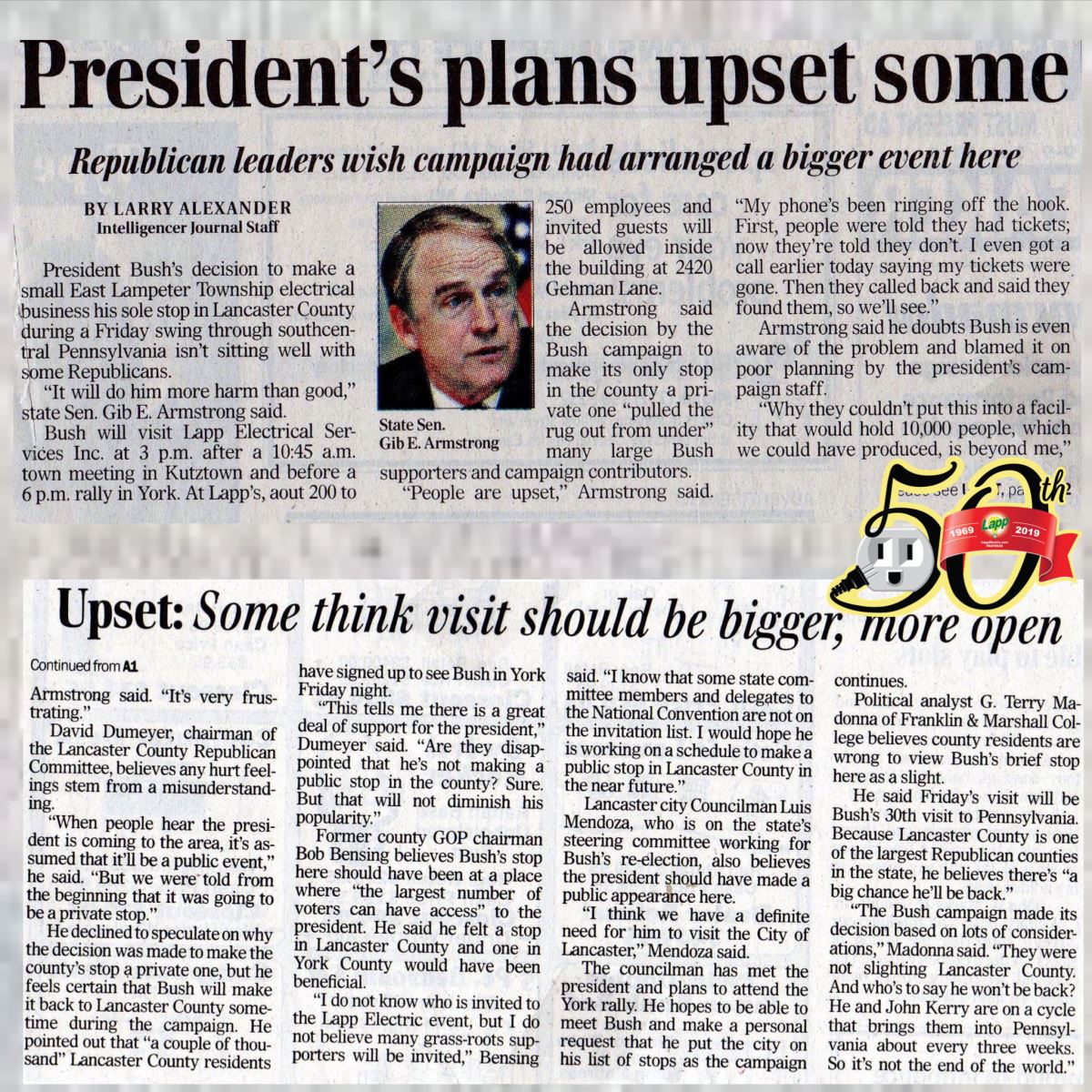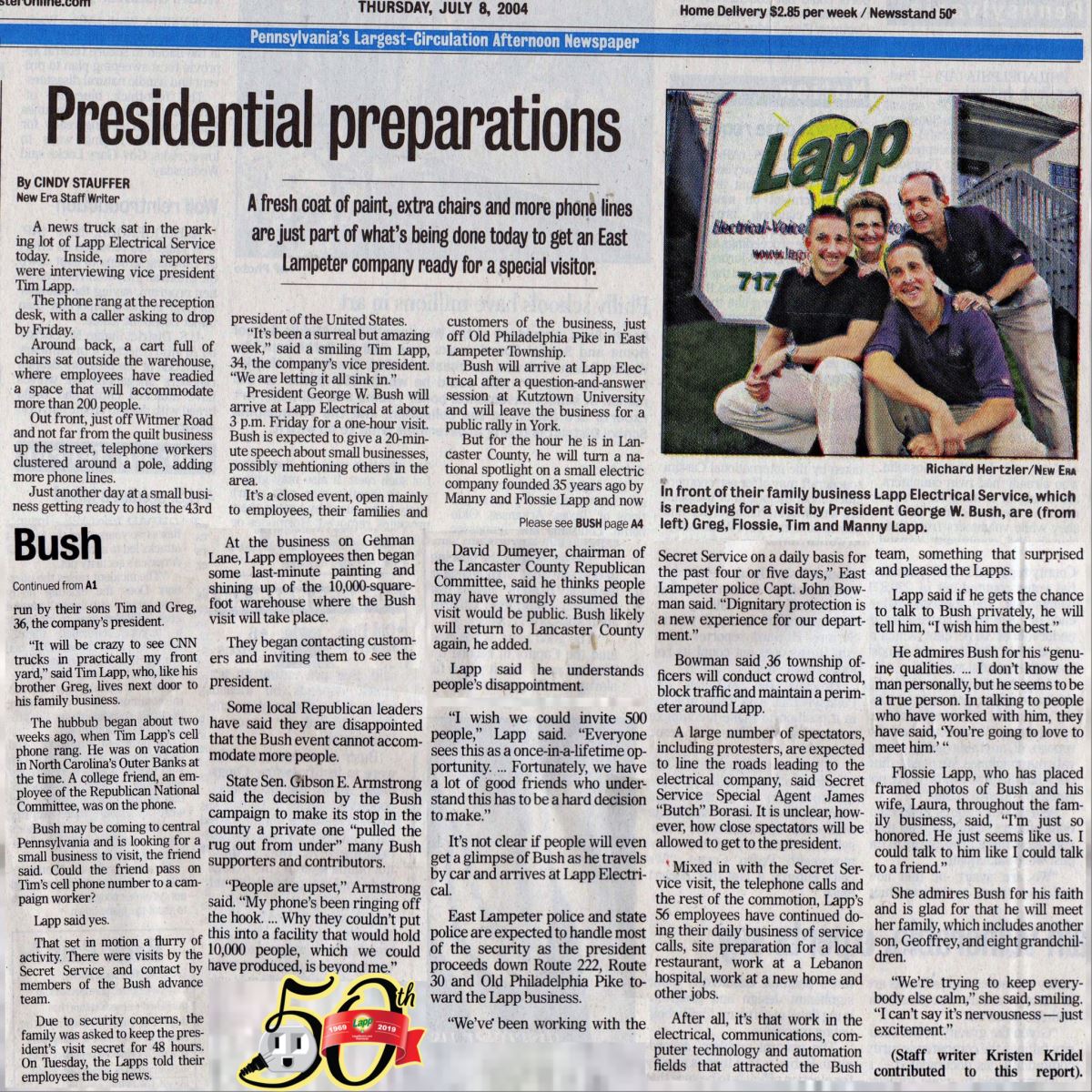 Work Site
Solar is something that has been around for awhile and at different points in history it has gained popularity.
In 2010, we helped a customer out with a large solar project.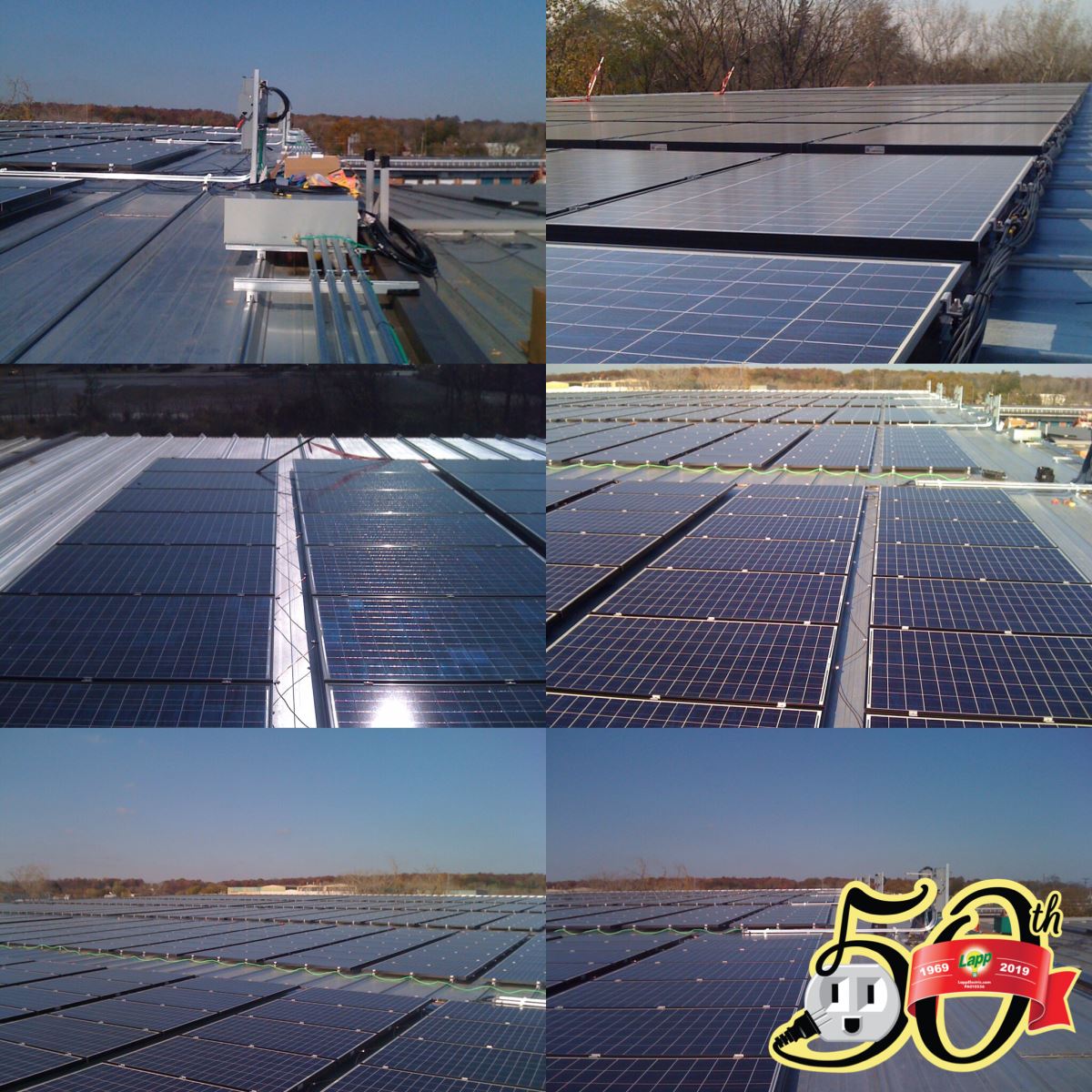 L.A.P.P.E.R. Inspiration
P = Perseverance
"Perseverance is the hard work you do after you get tired of doing the hard work you already did." – Newt Gingrich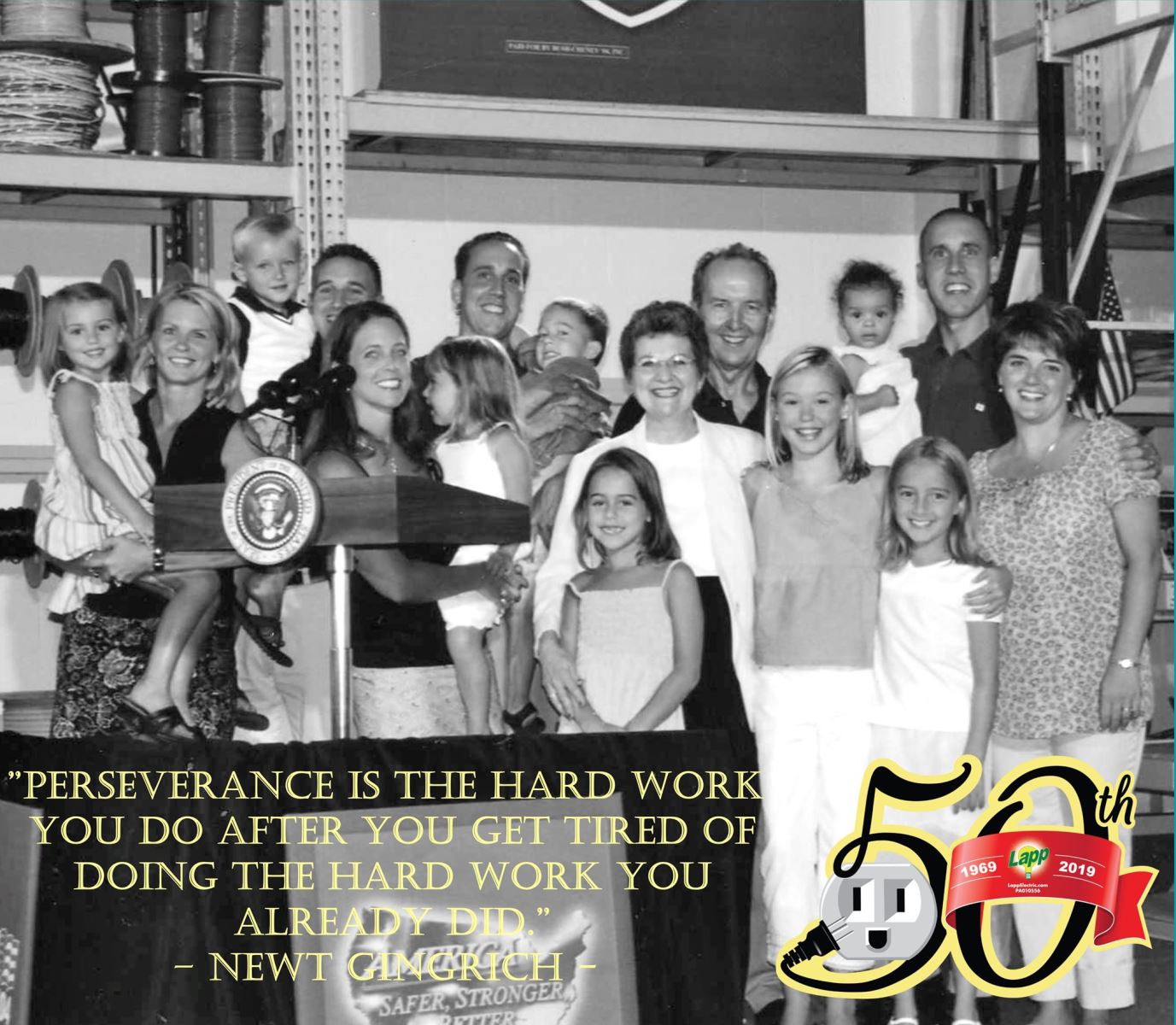 We Want to Hear from You
We were recently asked what our favorite memory of Lapp Electric's 50-year history is and while there are too many for us to pick just one, we want to ask you…
What is your favorite memory of Lapp Electric?
Whether you are a customer, current or former Lapp Electric Team Member, Vendor, Community member or friend of the Lapp family, we would love to hear what your favorite memory of Lapp Electric has been.
You only have a few more days to let us know your favorite memory and be entered into a drawing because on Monday, July 15th we will select one random winner from the entries to win a Lapp Electric Swag Bag Prize Pack which will include…
Lapp Electric 50th Anniversary Limited Edition T-Shirt
$20 Gift Card to Dolce Vita Pizzeria & Grill
Lapp Electric Hat
And Much More
Be sure to follow us on social media and check back often to see more on our 50-year history as well as find out more about the year 1969.